Our high-quality tomato protein instant soup is a great mix soup to refresh your body and provide high energy. It will balance your regular diet as well as give you a wonderful taste that will keep you licking your fingers. This excellent high-protein instant tomato soup is made with natural ingredients and ayurvedic herbs that keep your body healthy with positive energy. Thanks to this wonderful protein instant mix soup, you can enjoy tomato soup very quickly with your meal or according to your diet plan.This tomato soup instant mix gives you all the properties of tomatoes and the synergistic effect of all the ingredients inside you.Its instant process is amazing and it can save you a lot of time by using it through ready-to-eat
AMAZING TASTE WITH HIGH PROTEIN!!
This high protein instant tomato mix soup has saved many properties inside itself, you can also call it a storehouse of properties because its taste is better than normal tomato mix soup and it is very beneficial for your body. You can also take it as a light diet even in fever. The high protein present in it will give you the power to fight diseases. To make it more delicious, you get the benefits of Astaxanthin, prebiotic, inulin fiber (an Ayurvedic herb that is used in this instant tomato mix soup). This soup also includes the properties of Pipli, Moringa, Turmeric, Ginger, Amla, and Chitra, etc. in the form of an herbal mixture. And because of all these ingredients, this high-protein instant tomato soup mix becomes a compressive nutraceutical soup for people who lead an active lifestyle.
TAKE THIS HIGH-PROTEIN INSTANT TOMATO MIX SOUP EASILY!!
This Instant High Protein Tomato Soup is as nutritious as it is easy to use
● First, you have to put the sachet in a mug or bowl
● After pouring into the utensil, you have to add 150 ml of hot water to it
● Stir the mixture vigorously with a spoon for 1 minute and wait for it to be completely dissolved
● After successfully doing all the above three procedures, leave it on rest for 1 minute and then enjoy your delicious soup while watching TV 3.
HEALTHY INGREDIENTS USED IN TOMATO PROTEIN INSTANT SOUP!!
As we told you that this high-protein tomato mix instant soup is of high quality and is very beneficial for your body because of the special ingredients used in it. This protein soup contains
● Tomato freeze-dried powder (30%)
● Whey Protein Concentrate (30%)
● Soya Protein Concentrate 5%
● Inulin Dietary Fiber (2%)
● Edible Common Salt
● Maltodextrin
● Saccharomyces cerevisiae (Yeast Extract)
● Tapioca Starch
● Edible Vegetable Oil (Sunflower and olive oil)
● Whole milk powder (14%)
● Guar gum (0.2%)
● Herbal Mix (5%) [ Piper longum (pipli)
● Moringa oleifera (Doctorbush)
● Curcuma longa (Turmeric)
● Zingiber Officinale (Ginger)
● Emblica Officinalis (Amla)
● Plumbago zeylanica (Chitrak)
● Astaxanthin (from Haematococcus) 2 mg and 12 mg of Zinc provides the perfect mixture of all these beneficial ingredients.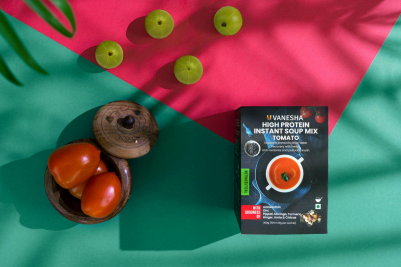 WHY VANESHA HIGH-PROTEIN INSTANT SOUP IS UNIQUE AND BETTER THAN OTHER INSTANT SOUPS?
Vanesha high-quality tomato instant soup is much better than other instant soups available in the market-
The soup mix comes in freeze-dried tomato powder form
2 mg astaxanthin and 12 mg zinc is present in this soup which other instant soups do not have
You get 5 times better protein than normal soup Moringa powder present in this instant soup contains amino acid protein and iron.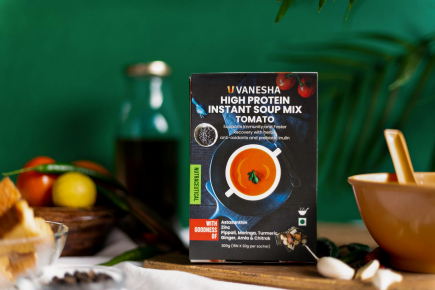 BENEFITS OF HIGH PROTEIN TOMATO INSTANT SOUP!!
This high protein instant tomato soup brings with it the power to fight many diseases and is very good for your body and also makes it healthy, we will now know some of its benefits.
This tomato soup is very beneficial in weight management
This high-protein soup improves your digestion system.
It helps you unleash your fatigue.
It provides support to your body lean muscle mass and by taking this high protein instant soup, your energy levels will also be very high.