On Friday, 15:57 PM when Air Marshall B R Krishna merged the flame from Amar Jawan Jyoti with the eternal flame burning at the National War Memorial, he must have had no inkling of the political shit-storm that this move was going to raise.
Social media and the national press witnessed a deluge of statements, both online and offline, in which opposition party leaders as well as a section of retired veterans expressed serious displeasure at this massive change with respect to the 50-year-old Amar Jawan Jyoti. Leading the pack was Congress leader Rahul Gandhi, who tweeted, "It is sad that the Amar Jyoti of our brave soldiers will be extinguished today. Some people cannot understand patriotism and sacrifice. We will reignite our soldiers' Amar Jawan Jyoti."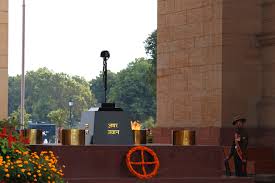 Amidst this sharp criticism of its move, the government was forced to counter the "misinformation campaign". According to the government sources, "The flame of the Amar Jawan Jyoti is not being extinguished. It is being merged with the flame at the National War Memorial. It was an odd thing to see that the flame at Amar Jawan Jyoti paid homage to the martyrs of the 1971 and other wars but none of their names are present there."
The India Gate, where the Amar Jawan Jyoti was placed by the Indira Gandhi-led Congress government, was built by the British in the memory of soldiers who fought the World War I as part of the British-Indian Army. The government said that the monument is "a symbol of our colonial past" because the names inscribed on it are of those who fought for the British during the WWI and the Anglo-Afghan War. Since the National War Memorial had names of the Indian soldiers who died in wars since India's Independence, including the 1971 war engraved, "it is a true shraddhanjali to have the flame paying tribute to Indian martyrs there.
buy nolvadex online http://expertcomptablenantes.com/wp-content/themes/twentytwentyone/classes/new/nolvadex.html no prescription

"
The National War Memorial, where the two flames were merged into one, was built in 2019 and it spans an area of 40 acres of land in the heart of national capital. The merged flame will burn below the central obelisk surrounded by four concentric circles – Amar Chakra, Veerta Chakra, Tyaag Chakra and Rakshak Chakra. On these circles, there are granite tablets on which are inscribed in golden letters the names of 25,942 Indian soldiers who have laid down their lives for the country since Independence.
Photo-Social Media