Israel's Prime Minister, Benjamin Netanyahu, has blamed Iran for an explosion that damaged an Israeli-owned ship in the Gulf of Oman last week.
The MV Helios Ray, a vehicle carrier, was travelling from Saudi Arabia to Singapore when an explosion reportedly ripped holes in both sides of its hull.
"This was indeed an operation by Iran. That is clear," Mr Netanyahu told Kan Radio, without providing any evidence.
Iran's foreign ministry said it strongly rejected the accusation.
Mr Netanyahu's remarks were broadcast hours after a monitoring group reported that Israeli missile strikes had targeted Iranian forces in Syria.
It is not yet clear what caused the explosion that damaged the Helios Ray on Thursday night. But the ship's owner, Rami Ungar, said that it left two holes in the hull about 1.5m (4.9ft) in diameter, just above the waterline.
Yoav Galant, an Israeli cabinet minister, told Ynet TV that photographs of the hull suggested the damage was the result of "a mine affixed to the exterior, apparently in a night-time navy commando operation".
He noted that the attack took place close to the Iranian coast and that the perpetrators would have known from publicly available databases that the vessel was Israeli-owned.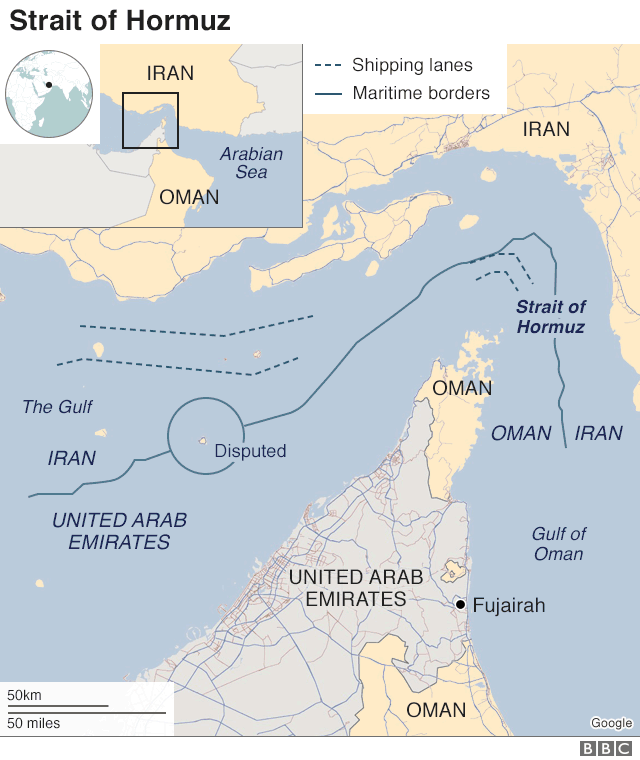 Iran denied any involvement in those attacks and rejected Mr Netanyahu's accusation on Monday.
"The Persian Gulf and the Sea of Oman are Iran's immediate security areas. We will not allow them to spread panic," foreign ministry spokesman Saeed Khatibzadeh told a news conference.
"Netanyahu suffers from Iranophobia and he thinks the way to solve his domestic problems is spreading such accusations. Israel knows well that Iran's answer will be technical and precise regarding its national security."
When asked whether Israel would retaliate, Mr Netanyahu replied: "You're familiar with my policy. Iran is Israel's biggest enemy. I am determined to fend it off. We are striking at it all over the region."
Kan's interview with the prime minister was recorded on Sunday night, hours before neighbouring Syria said it had repelled an Israeli missile attack.
The Syrian state news agency, Sana, cited a military source as saying Israeli aircraft had fired missiles from the occupied Golan Heights towards "some posts in the vicinity of Damascus". Air defences intercepted the missiles and shot down most of them, the source added.
The UK-based Syrian Observatory for Human Rights said the missiles targeted sites in the southern Sayyida Zeinab area that were controlled by the Iranian Revolutionary Guards and Lebanon's militant Hezbollah movement, which are backing the Syrian government in the country's civil war.
The Israeli military declined to comment on the reported strikes, but it frequently attacks Iran-linked targets in Syria to counter what it calls "Iranian entrenchment" in the country.
Iran has also accused Israel of being behind the assassination in November of the country's top nuclear scientist, Mohsen Fakhrizadeh. Israel has neither confirmed nor denied any involvement.