Situated in the far distance on the northern top of the South American continent, lies Venezuela which is a beautiful country with immense natural beauty and the world's known largest oil reserves and has been one of the world's largest exporters of oil.
And it is this very oil which has put Venezuela in the firing line of USA.
Venezuela whose official name is the Bolivarian Republic of Venezuela is a country with an area of 916,445 square kilometres spread over continental landmass and islands and has a population of 2.84 crores. Its capital is Caracas.
Venezuela was colonised by Spain in 1522. In 1811 it declared its independence from the Spanish rule and became part of the Republic of Colombia. In 1830 it became a sovereign nation and since then till 1958 it experienced immense political turmoil.
1958 onwards it saw democracy and economic prosperity rising in the country till the 1980s.
The 1980s and the 1990s saw political turmoil in the country which culminated in a new Constitution of Venezuela being promulgated in 1999.
Venezuela's populist social welfare policies and increased social spending in the initial period after the promulgation of the new Constitution saw economic inequality and poverty decreasing in the initial decade of 2000, but eventually they proved to be Achilles Heel.
To add to Venezuela's woes were the Presidential Elections held in 2013. The victory of President Nicolas Maduro in the snap elections held after the death of President Hugo Chavez, was challenged by his opponent Henrique Capriles. However, the National Electoral Council upheld Nicolas Maduro's victory.
Though Venezuela is rich in oil and is a big exporter of coffee and cocoa but the poor policies of the incumbent government lead by Nicolas Maduro has collapsed the Venezuelan economy.
Till date over 60 lakh Venezuelans have immigrated from Venezuela out of a total population of 2.84 crores. And most of the immigrants are the skilled and the educated people.
In 2017 Venezuela started defaulting on its debt repayments.
The role of USA in the affairs of Venezuela is interesting and needs a detailed insight.
Till 1999 USA had good relations with Venezuela. However, since 1999 after the new Constitution was promulgated in Venezuela and Hugo Chavez became the President in 1999 and declared himself a socialist, USA started having differences with Venezuela.
In 2002 Venezuela suspected the US administration led by President George W. Bush in having a hand in the failed coup against Hugo Chavez. In 2008 Venezuela expelled the US Ambassador on grounds of him supporting an anti-government protest. In 2014 three US diplomats were expelled from Venezuela on similar grounds.
The 2019 Venezuelan Presidential Crisis which began on 10 January 2019 saw the opposition leader Juan Guaido refuting the victory of President Nicolas Maduro. USA under President Donald Trump supported Juan Guaido in this tussle.
On 23 January 2019, Venezuela broke off diplomatic ties with USA. This led to USA imposing sanctions on Venezuela which included sanctions on the Venezuelan oil and gas.
Now with the ongoing Russia-Ukraine War, USA is keen that Russia loses its control over its oil that it exports to many countries in the world. For this it wants Venezuela to produce more oil. But President Nicolas Maduro wants the legitimate recognition of its government by USA in return.
On 05 March 2022, senior US officials visited Venezuela and met the Venezuelan government. The two sides discussed easing the US sanctions on Venezuela in exchange for political concessions from either side.
Though little progress was made in the talks but it did see the release of two US citizens under arrest in Venezuela since 2017.
US President Joe Biden wants Venezuela's oil and gas to USA so that the rising oil and gas prices in USA are mitigated in the backdrop of the Russia-Ukraine War in return for some recognition of the Nicolas Maduro government.
USA's overtures to warm up with Saudi Arabia and the UAE to pump in more oil globally has met with a cold shoulder from these two Asian countries, hence Venezuela remains the next big bet for USA.
Venezuela produces 800,000 barrels of oil a day and with US support can ramp up its production.
US wants Venezuela to guarantee free and fair Presidential elections which are next due in 2024 but Nicolas Maduro doesn't want to take any steps which can reduce its hold on power.
With oil and gas becoming critical for USA and the reluctance of Nicolas Maduro to give assurances to USA on free Presidential elections in 2024, Venezuela is well in the firing line of USA.
William Kristol rightly remarked "American power should be used not just in the defence of American interests but for promotion of American principles". Nothing matters more to USA then the American interests, whatever be the consequences on any nation in the world.
About the Writer –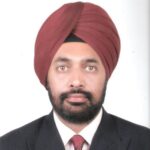 Lt Col JS Sodhi (Retd)
The writer who retired from the Corps of Engineers of the Indian Army is an alumnus of NDA, Khadakwasla and IIT Kanpur. He is a M.Tech in Structures has also done MBA and LLB and is a prolific writer and a public speaker. He tweets at @JassiSodhi24. The views expressed are personal.